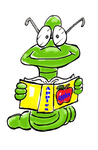 Bad Weather Update
In case of bad weather, call ahead to make sure the library is open. Be safe during the snow and flooding.
Downloadable Books
The West Virginia Reads website has all the info you need on downloadable books.
Author Signing
Author Brandon Kirk will sign copies of his book Blood in West Virginia: Brumfield V. McCoy, on Tuesday, March 17, 3-6 p.m., at the Wayne Library.
Ceredo-Kenova Library
1200 Oak St., Kenova
(304) 453-2462 voice/fax

Wayne Library
325 Keyser St., Wayne
(304) 272-3756 voice/fax

Fort Gay Library
8608 R Broadway, Fort Gay
(304) 648-5338 voice/fax

E-mail us at
wcpl@cabell.lib.wv.us