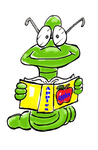 Holiday Hours Scheduled
Wayne County Libraries will be closed on Thanksgiving (Nov. 28), Christmas (Dec. 23-25), and New Year's (Dec. 30-Jan. 1).
Check Out Freegal Music Downloads Freegal Music offers access to millions of songs from more than 10,000 labels. Use your library card (and PIN) to listen to music and download up to 3 songs a week. Click here! Also find the Freegal app on the App store.
Catching Fire Party
The C-K Library staff and Vinson Middle have teamed to form an after-school book club. See the story in the Herald-Dispatch of Nov. 22 for details.
Art Class At C-K Library
Greg Goode's children's art class at the C-K Library is scheduled Mondays at 4:30 p.m. If there is no school, there is no art class.
Ceredo-Kenova Library
1200 Oak St., Kenova
(304) 453-2462 voice/fax

Wayne Library
325 Keyser St., Wayne
(304) 272-3756 voice/fax

Fort Gay Library
8608 R Broadway, Fort Gay
(304) 648-5338 voice/fax

E-mail us at
wcpl@cabell.lib.wv.us