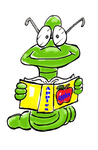 Summer Reading
The Wayne and C-K libraries have begun planning summer reading. Anyone with program ideas or prize donations may contact either branch.
Hours at C-K
The C-K Library will be open on Saturdays through May 18. The library will be closed on Saturdays during the summer months. Saturday hours will resume in September.
Check out the following link: http://www.losinglibraries.org
Art Class At C-K Library
Greg Goode's children's art class at the C-K Library will have it's final session of the spring on Monday, May 20 at 4:30 p.m. Mr. Greg's class will return in the fall.
Library Board Meeting
The Wayne Co. Library Board is scheduled to meet Tuesday, May 7, 5 p.m., at the C-K Library. Agenda items include personnel and the budget.
Ceredo-Kenova Library
1200 Oak St., Kenova
(304) 453-2462 voice/fax

Wayne Library
325 Keyser St., Wayne
(304) 272-3756 voice/fax

Fort Gay Library
8608 R Broadway, Fort Gay
(304) 648-5338 voice/fax

E-mail us at
wcpl@cabell.lib.wv.us